Nimble: A Powerful Tool
for Online Entrepreneurs
Alexandre Chapuis, Aug 1, 2023
Nimble IP, premium IP Infrastructure that just works. Nimble IP makes it effortless with premium proxies that deliver data smoothly and integrate seamlessly into your deployment.
Introduction
Knowing the importance of accurate, real-time data for online businesses, Nimble steps in as a game-changer. As a premium proxy service provider, Nimble is the first to utilize AI for better results, offering reliable, high-speed proxy servers to boost your digital presence.
Nimble streamlines data collection with three key products: Nimble API, Nimble Browser, and Nimble IP. Each is designed to make data gathering easy, boosting your SEO performance and business success. With Nimble, you gain a partner committed to supporting your data-driven journey with innovative technology.
Table of Contents
Nimble API
Nimble browser
Nimble IP
Benefits for users
Nimble API
Nimble API streamlines accurate data to your cloud storage with zero engineering complexity. This means you can collect data from any public web source with zero effort. The API interface is simple to use, and the delivery methods are flexible, so you can get the data you need in the format that works best for you.
One of the key features of Nimble API is its ability to reliably deliver accurate data by using Nimbleway.com's unique Nimble Browser and Nimble IP technology. This means you can trust the data you receive from Nimble API to be up-to-date and accurate.
**Here is an example of an API request: **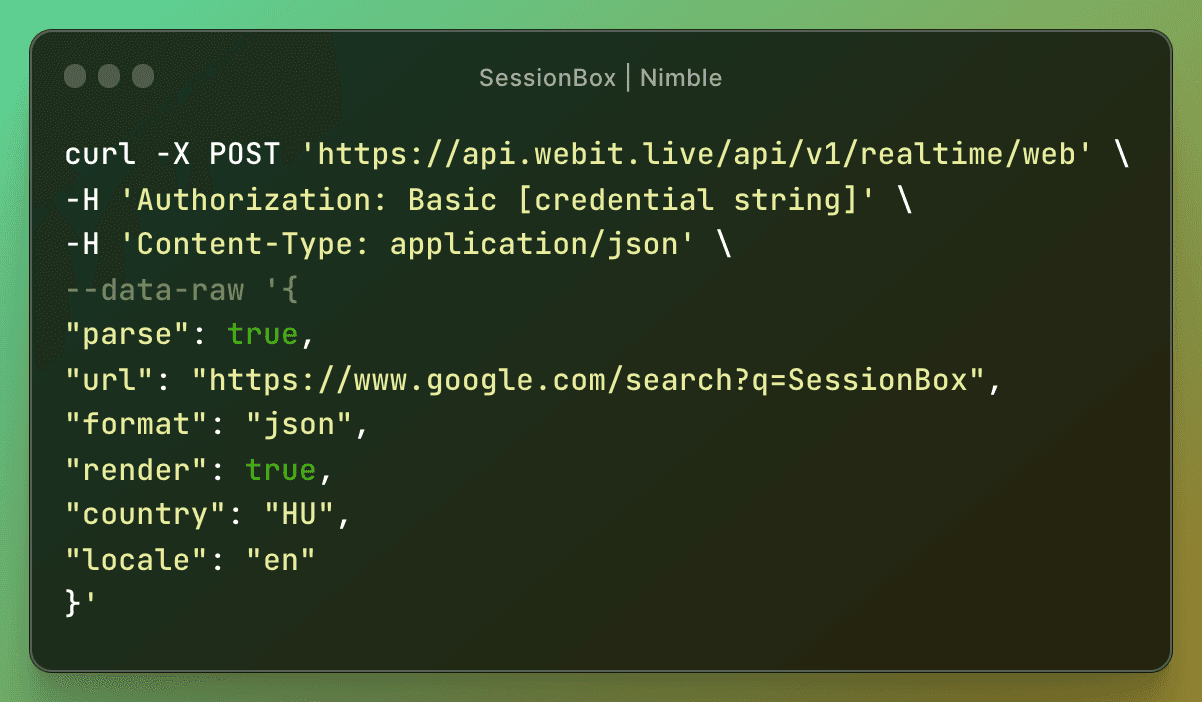 Nimble Browser
Nimble Browser boosts your data collection ops beyond Selenium and Puppeteer's limits. This agile browser is designed specifically for data collection, with features like an agile fingerprinting engine and ML data structuring. It's also lightweight and easy to use, so you can get started right away.
One of the key benefits of using Nimble Browser is its ability to convincingly appear, behave, and browse like any device in the world. This means you can collect data from websites as if you were using a real device, which can help improve the accuracy of the data you collect.
Another benefit of using Nimble Browser is its painless integration with existing browser frameworks. This means you can easily connect Nimble Browser with your existing setup, without having to make major changes to your workflow.
**An example of a local browser generated with Nimble: **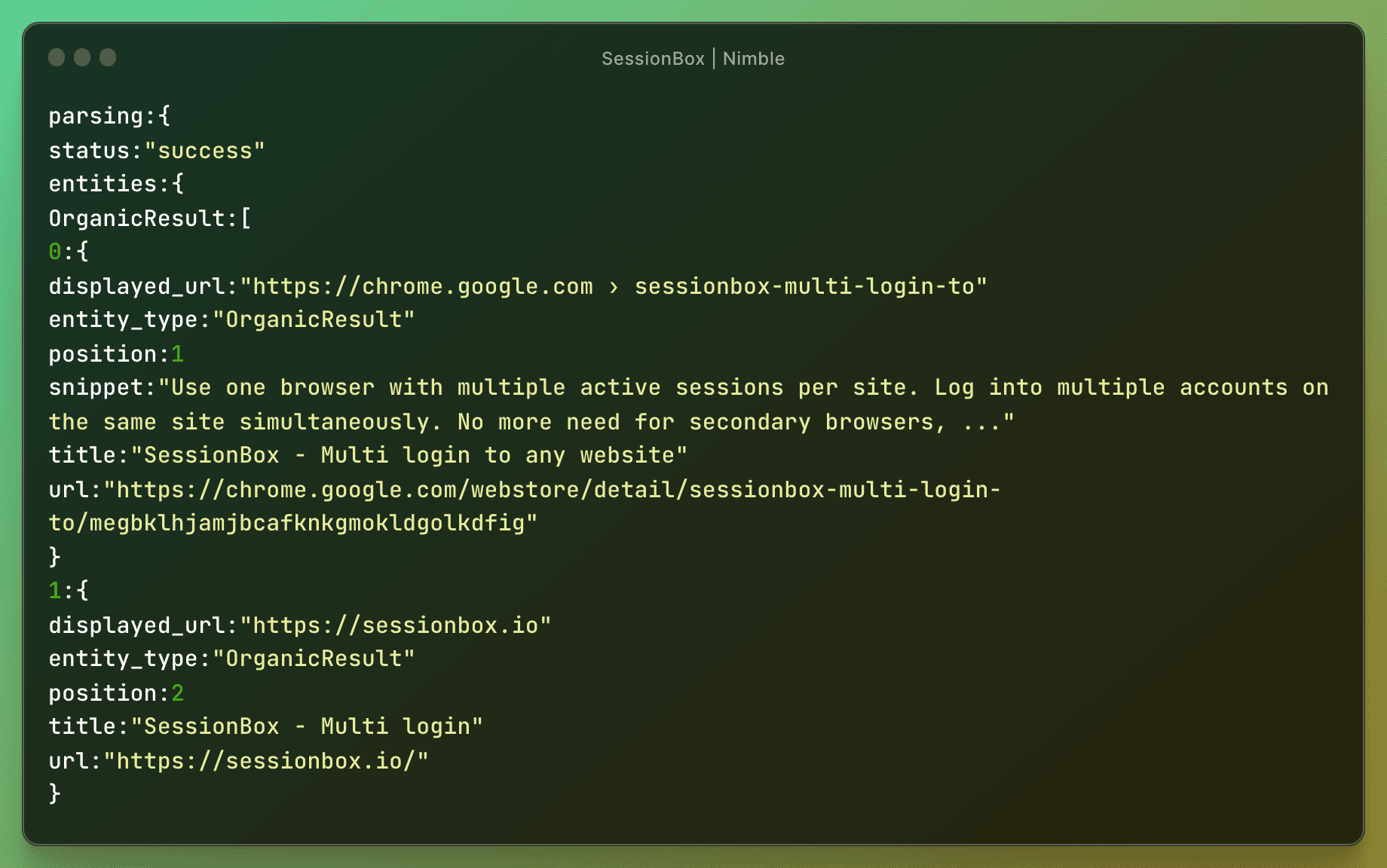 Nimble IP
Nimble IP is the top proxy service provider that brings you exceptional results with the power of AI technology. They are proud to be the first to utilize AI technology for unmatched performance. With Nimble IP, you gain access to a wide range of premium IPs worldwide, ensuring incredible performance and advanced analytics. Moreover, our integration process is hassle-free, allowing you to start using Nimble IP immediately.
One of the key benefits of using Nimble IP is its consistent high performance over time. You can trust that your data collection efforts will always be fast and reliable, regardless of any changes in your needs.
Another advantage of Nimble IP is its advanced analytics capabilities. This means you can obtain valuable insights into your data collection efforts, helping you make informed decisions to improve your processes.

Benefits for users
So how can Nimble benefit online entrepreneurs? Let's take a closer look.
For e-commerce businesses, Nimble can help drive sales and retain customers by using external-data-powered dynamic pricing algorithms and analyzing product reviews for key insights into customers' experiences. This means you can stay ahead of the competition and keep your customers happy.
For businesses working on their SEO and SEM strategies, Nimble can supercharge your efforts with data-driven methodologies powered by always on, always available data pipelines. This means you can accurately track your and your competitor's rankings, discover critical search phrases, optimize your SEM spend, and much more.
And for businesses looking to generate leads and enrich customer profiles, Nimble can help increase conversions and focus your sales efforts with external-data powered lead scoring models that will help cut through the noise and prioritize high-potential leads. Plus, you can better understand and improve customer journeys by enriching customer profiles with key insights and data points.
In conclusion, Nimble is a powerful tool for online entrepreneurs looking to gather accurate and up-to-date data. With its easy-to-use products and wide range of benefits, it's definitely worth checking out.
If you want to have a closer look at all the possibilities this tool can provide you, have a look at their documentation.
Ready to revolutionize the way you work? Visit the Nimble website today and discover the power of organization!
All your profiles
in One window.